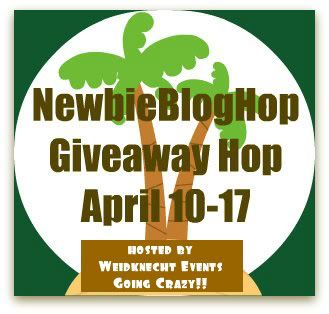 I am so excited to be part of this fun giveaway event. As someone new to the blogging world, who has been blogging for less than a year, I know how important it is to make connections with other bloggers and find support or advice. The Newbie Blog hop started as a way to help new bloggers make those connections and find other bloggers who were willing to share information, so everyone could learn together.
The
Newbie Blog Hop
is hosted by GoingCrazy!!WannaGo??!! and
Life's Cheap Thrills.
It opens every Tuesday at 9pm CST and closes on Friday at midnight. There is also a
Facebook
group where experienced and newer bloggers share information as they learn together. If your a new blogger or even if you just feel new, please come join us!
OK, now on to the giveaway event! There are over 100 blogs participating in this event, with both new bloggers and wonderful bloggers who support newbies. All of the blogs will have a giveaway item worth at least $15.00. This event starts April 10th and ends on April 17th.
I hope you check out my giveaway and then hop around to some (or all) of the other awesome blogs participating in this event.
a Rafflecopter giveaway
Disclosure: This giveaway will start April 10th and end on April 17th. The giveaway is open to those 18 and older in the US or Canada. Odds of winning vary on amount of entries received and no purchase is necessary. Blog owners are not responsible for shipping out prizes if a company sponsored the giveaway. The Newbie bog hop bloggers are not responsible for fulfilling any of the prizes on other blogs. This post may contain affiliate links, but the thoughts and opinions expressed are always my own. Sometimes, this blog receives items for free for the purpose of writing a review and/or hosting a giveaway. Some posts may be paid sponsored posts. These factors to not determine the type of review posted, and the reviews are always factual and based on my own opinions.Please visit my Disclosure Policy for more information.